We truly believe in providing excellent Niagara Power Washing prices.
Our house wash is a great way to wash off the winters dirt and debris from your vinyl or aluminum siding. We can eliminate dirt, dust & stuck on gunk. We do our best to eliminate all spiderwebs and bees nests as well.
Best Price Guarantee
Find A Lower Price? We'll Beat it. Guaranteed.
Hey look! You found a deal.
If you find a lower price from another local company, we'll beat it by 10% of the difference.
Up To 2.5 Stories
We Can Reach Homes Up To 2.5 Stories High
Whoh...That's Pretty High
Yup! We can safely clean siding up to 25. stories tall.
Ladder Free
We Don't Compromise On Safety
We Keep Our Feet On The Ground
The use of specialized extension poles allows us to wash your house from the ground. No safety concerns here.
Eco-Friendly
No Soaps Or Chemicals. Just H20.
We Give Your Home A Bath
We use nothing but water in our house washing process. No harsh chemicals or detergents to worry about killing your flowers or staining your lawn.
Up Front Information
We Always Give Honest Advice.
If We Don't Think You'll Like The Results, We'll Tell You.
We have been in the business for a while now and know what works….and what doesn't.
We will always be honest about what to expect with results.
Choose Your Service
Some Companies Only Offer Their Own 'Process'. We Believe In Choice.
Choose To Do As Much Or As Little As You Like.
Outside Only Windows? No Problem!
Just Gutter Cleaning? OK!
You Always Choose Your Service Level.
Uniformed Technicians
If A Company Is Not Willing To Invest In Looking Professional, Then They're Most Likely In It For The Short Term.
PROFESSIONAL, ALWAYS
We always arrive in uniform with state-of-the-art professional equipment to every window cleaning. Guaranteed.
We use professional pressure washing poles to reach the top of your siding while keeping our feet firmly on the ground.
Concrete Driveways & Walkways
How Niagara Power Washing Cleans
All exterior walls are washed  from gutter to ground level including exterior gutters/spouting/downpipes, eaves/soffits, entrance alcoves and joinery. We use a large extension wand to spray at a 90 degree angle at the siding to minimize the amount of water that leaks underneath. Our process is 100% eco-friendly and no soap or harsh chemicals are used during our house wash process.
Niagara Power Washing's Services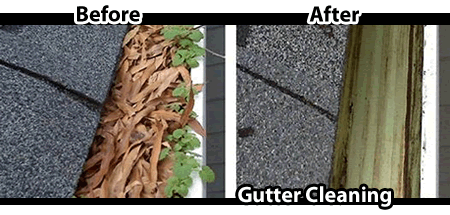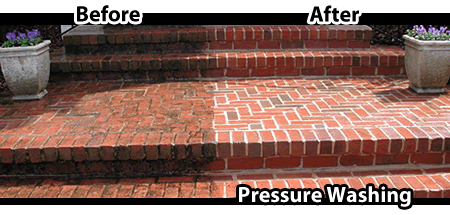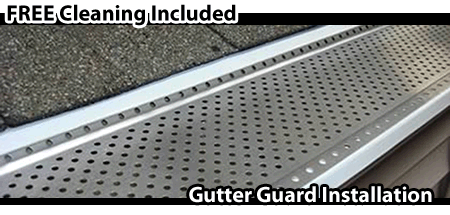 Why Choose Niagara Power Washing?
Online Quoting And Easy Online Booking

Choice Of Process.
Have as much or as little done as you wish

Professional. Always.
At Niagara Power Washing we understand that your home is exposed to the elements of weather on a daily basis, and it can also accumulate layers of dirt, grime, mold and mildew. Although you may not want to take on such a dirty job, the exterior of your house needs washing the same way your car does. In fact, experts recommend a full power wash of your home's exterior at least every two years. It's a big job and someone has to do it, but thanks to Niagara Window Washing, that someone doesn't have to be you.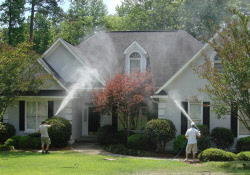 If you are looking for exterior house cleaning services in Niagara, ON you have come to the right place. We provide the manpower and professional cleaning services to get the exterior of your house sparkly clean. It is especially important to keep painted wood, stucco and vinyl siding clean to protect to help maximize the sidings surface life.
When people choose to bypass using exterior house cleaning services, there are a few common mistakes they make when trying to tackle the exterior house cleaning project themselves. The first is using too much pressure or holding the cleaning tip too close to the house. This will strip away paint or blow holes in your home's siding. The other common mistake is to use low quality cleaning solutions, which tends to lack in cleaning capability and lead to the exterior of your house requiring high pressure to remove even the smallest of stains and leaving a dirty residue behind.
On the other hand, people who use Niagara Power Washing are much less stressed when they leave the job up to professionals who have the proper tools and training to get the job done efficiently